Tangaroa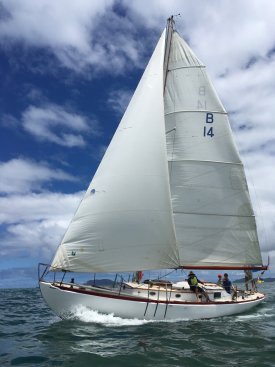 Launched
2nd December 1936
Sails
450sq ft Main, 150sq ft Jib
Spars
Mast 52ft reduced to sail to Hawaii
1936
Jas. Inkster of Bayswater
1953
Maurice Vincent Bates (who added the small doghouse)
?? to 1961
Messrs M V Bates, Stretton and Green of Auckland
1961 to 1963
Peter and Jo Byam Sailed her to Hawaii 1962
Oct 1963 - Sept 1977
William J Froome and Robert T Leary
Sept 1977 - 2019
Allan Rey Jonsson and Lloyd Edward Printup. Printup left the partnership in 1978
Apr 2019 to Apr 2022
Rey retired to California and custodianship passed to his son Eric Jonsson
Apr 2022 - current
Andrew Bates (Grandson of Maurice Bates)
Tangaroa has not officially been a part of the Classic Yacht Charitable Trust however it is because of the trust's website drawing her owner Rey and son Eric Jonsson's attention to what was happening wih classic yachting in New Zealand that the following story unfolded.
TANGAROA COMPLETES FULL CIRCLE
Words by Larry Paul
April 1st 2019 and my phone is ringing and flashing up with a previously unknown (but now very familiar) number from California USA. On the end of the line is the very chipper voice of Eric Jonsson.
His message? "I have been reading your website classicyachtcharitabletrust.org.nz and am most impressed with the work being done in New Zealand to restore and sail historically significant classic yachts and launches. My family has owned a New Zealand classic yacht "Tangaroa" since 1977. The yacht is based in Hawaii where our family lived. Dad has now moved to mainland USA and is no longer able to sail her. We believe now is the time for her to return to her routes. Would the Classic Yacht Charitable Trust be interested in taking her on?"
I'm thinking, is this an April fools prank from a mate or a genuine attempt to return a significant piece of New Zealand's wooden boat building history to New Zealand?
After further conversation it is obvious that Eric is very genuine and clear about his intentions to return Tangaroa to her homeland where she was built and he fills me in on the history of the vessel.
Tangaroa was designed by John Brooke of the Department of Scientific and Industrial Research NZ. John based his design on a larger Scandinavian designed boat by K Aage Nielsen which was featured in Rudder magazine in 1933. Line drawings completed by John Brooke are dated September 1935 and define a 38ft cruising yacht to be built in triple diagonal plank kauri timber for Mr Jas. Inkster of Bayswater Auckland. She is a roomy sloop with masthead rig. Tangaroa was built by the Percy Vos yard in Hamer Street Auckland and launched on the 2nd December 1936. Pohutukawa was used for her stem, interior fitout in Mahogany and hatches and skylight in teak. A doghouse was added by owner Maurice V Bates in 1953.
While built as a cruiser, boats were built in the 30's for cruising and racing. Tangaroa was no exception and successfully competed regularly in the Royal New Zealand Yacht Squadron events including coastal races from Auckland to Tauranga, Auckland to Kawau Island and Auckland to Bay of Islands. During coastal events enthusiasts were keen to hear of the progress of the yachts and Tangaroa was often provided with a supply of homing pigeons which were released at regular intervals with information on the positions and progress of the yachts.
In 1961 Tangaroa was purchased by a young American couple Peter and Jo Byam from then owners Messrs M V Bates, Stretton and Green of Auckland. The Byams fitted her for offshore cruising and set off to explore Tahiti before eventually arriving in Hawaii in November 1962. Tangaroa was sold to William J Froome and Robert T Leary on the 16th Oct 1963 who after many enjoyable years cruising between the Hawaiin Islands sold her to the current owner Allan Rey Jonsson and his sailing buddy Lloyd Edward Printup on the 2nd Sept 1977. Interestingly the Byams had such fond memories of New Zealand that they immigrated to Waverley NZ in 1978. Peter passed away in 2015 but Jo still lives on their family farm. She is aiming to meet up with Tangaroa in May this year when she plans to return to the vessel an original wooden Tangaroa carving, souvenired when they sold the boat in Hawaii.
Rey Jonsson and his family enjoyed many years of racing around Oahu and across to Maui. Rey moved to California to be closer to family in his retired years and is no longer able to sail Tangaroa. He has passed custodianship to his son Eric and Rey now enjoys Tangaroa vicariously through Eric's adventures of returning Tangaroa to her home of origin where she joins a wonderful fleet of restored and well maintained classic wooden boats.
Back to that conversation with Eric Jonsson. "Eric we have quite a fleet of vessels in the Classic Yacht Charitable Trust and would be unable to take her on, but I would be happy to help you meet your father's wishes in having her returned to New Zealand. The best way might be to identify an interim local skipper with like passion for classic wooden boats and have them assist in recommissioning her and sailing her in New Zealand until a long term custodian can be identified to care for her." This Eric and his Dad were most agreeable to and the lengthy process of building a shipping cradle and organising shipping from Hawaii to Auckland was put in motion.
Tangaroa left Honolulu early on the morning of Nov 19th 2019 and arrived in Auckland on December 8th via Tonga. On arrival Boat Haulage Ltd trucked her to Horizon Boats in Stillwater where Wayne Olsen replaced the decks, tidied up the cockpit lockers, rebuilt and repaired hatches and skylight and added galley, head and holding tank. Corey Rademaekers as commissioning skipper carried out the paint work and has spent considerable time re-rigging, completing finishing work and fitting her out for cruising in New Zealand. Tangaroa was relaunched in September 2020 at Gulf Harbour Marina where she is currently berthed. Corey built a small racing team for shake down sails, competition in Classic Yacht Association events and managed some cruising time with his children over the summer of 2020/21. In 2021 the helm was passed to skipper Steve Lafferty, a trustee of the Classic Yacht Charitable Trust, who races her with the Classic Yacht Association of New Zealand.
Eric and his good friend Randy Schmitt had hoped to be in NZ for the relaunch celebration but with COVID19 interrupting their plans their chance to cruise the Hauraki Gulf is on hold.
An open day relaunch celebration was held on the 23rd of May 2021 at the Royal New Zealand Yacht Squadron when Tangaroa was open for viewing. At this event Tangaroa was welcomed home with a karakia and Jo Byam reunited the Tangaroa carving she had commissioned when they bought the boat. Many stories of the past were shared both on board and over drinks and nibbles at the squadron dinghy locker.
After reading the article in the July 2021 RNZYS Breeze magazine the Bates family learned that Tangaroa had returned to NZ. In November 2021 the family looked over Tangaroa at Westhaven and added some comment to her history. Maurice Bates son Doug Bates (aged 93) said Maurice was extremely particular about his beloved boat and if anyone dared to get the fishing rods out, there was no mercy. He was firmly a cruising man and didn't allow her to be raced, for risk of breaking her."
Joining Doug at the boat visit were his brother Lynton, and Maurice's grandsons Andrew and Geoff. Andrew mentioned that Maurice married Betty in Sydney in 1938 and they emigrated to NZ by ocean liner within a week. An enthusiastic yachting family, three generations of the Bates family have sailed the Tasman - Maurice, Lynton and this year Andrew, who chose to sail home from Australia on a 44ft catamaran due to the Covid19 Managed Isolation Quarantine facility bottlenecks.
The Classic Yacht Charitable Trust agreed to help Eric Jonnson find the right candidate to take on the custodianship of Tangaroa to care for her into the future. In April 2022 it was agreed that Andrew Bates would take on this role. Andrew states "I am extremely happy to have Tangaroa back in our family, having so often heard my father and uncles speak so glowingly of her as I was growing up. I also feel a tremendous repsonsibility to Eric and his father Rey to keep her sailing - Tangaroa has been in the Jonsson family a month longer than I have been in my family".
Roger Mills video | Tangaroa Returns